How to Choose Infill for Artificial Turf
The secret to natural-looking artificial turf is infill. Without this must-have element, your grass can look lifeless and bent. Choosing a suitable infill is vital to improving artificial turf's appearance, quality, and longevity.
Infill can be made from a variety of materials, including rubber, sand, and zeolites. Your choice of infill depends on many factors, including your preferences, the turf's application, and your budget.
Let's take a closer look at choosing the right infill for your artificial turf.
What are the different types of artificial turf infill?
All types of artificial turf infill have their pros and cons.
ZeoFill
If you have a dog, ZeoFill is an excellent choice for grass infill. This permeable turf infill is made from 100% natural materials (organic volcanic ash minerals called zeolites). The key benefits of ZeoFill include:
Odor control

–

ZeoFill's negatively charged molecular structure prevents ammonium in pet urine from forming into foul-smelling gas

. After you rinse the grass, ZeoFIll absorbs the water and dilutes the ammonia to release it gradually as the water evaporates. This gets rid of pet odors before they become a problem.

Better drainage

– ZeoFill is a porous material. When it comes into contact with water, it absorbs the moisture and allows it to drain away gradually. This type of moisture control prevents bacteria and microbes from growing in your grass

Microban® antimicrobial protection

–

Besides controlling bacterial growth through drainage, ZeoFill directly targets potentially harmful mold and bacteria.

Cools Turf

– Zerofill brings down the temperature of artificial turf by up to 19 degrees. This is especially important on hot summer days.
However, due to its light weight, ZeoFill can't always be used as a primary infill. You would need to mix it with another infill type to achieve better results.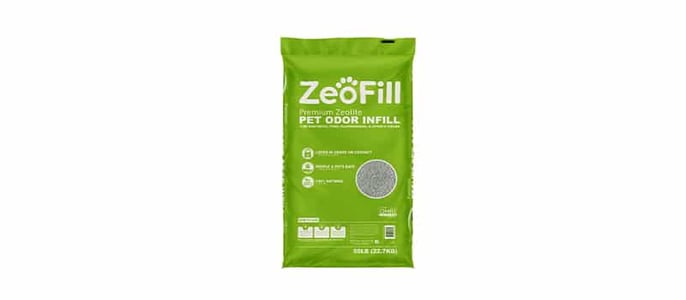 Silica Sand
Another natural infill material is silica sand. This one is made from quartz eroded by wind and water.
Silica sand provides excellent blade support and has a slower absorption rate. This type of infill is great for lawns, putting greens, playgrounds, and recreational areas.
The key benefits of silica sand infill are:
Natural materials

– great for households with pets and children, playgrounds, and recreational areas.

Realistic Putting Green Stimp Speed –

60 grit silica sand is just thin enough to make for a great backyard putting green while being heavy enough to keep grass blades in place.

Popularit

y – industry-wide application, ability to mix with other infill materials.
Excellent blade appearance

– helps blades stand upright and look natural.
This type of turf infill also comes with a few downsides. It can increase the surface temperature of artificial turf. It is also heavier than most infill types and doesn't prevent pet odors.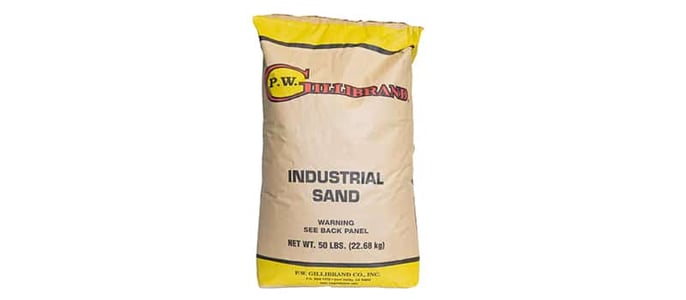 DuraFill/EnviroFill
DuraFill (also known as EnviroFill) is an artificial grass infill made from artificial sand. It's suitable for putting greens, dog parks, backyards, and much more. The benefits of this particular turf type include:
Durability

– it contributes to the integrity and longevity of your turf system.

Microban® antimicrobial protection

– granules are coated with antimicrobial materials to prevent bacteria from growing on your artificial grass.

Low Temperature –

Silicone dioxide

keeps artificial lawns cool on hot summer days.

Compaction Resistant

– The highly-rounded quartz core resists compaction.
The downside of using DuraIFill infill for synthetic turf is that it's acrylic-coated sand, which means the material is not as soft as other infill types. So, if your children are running around barefoot or you are thinking of infill for a sports field, you may want to choose another type.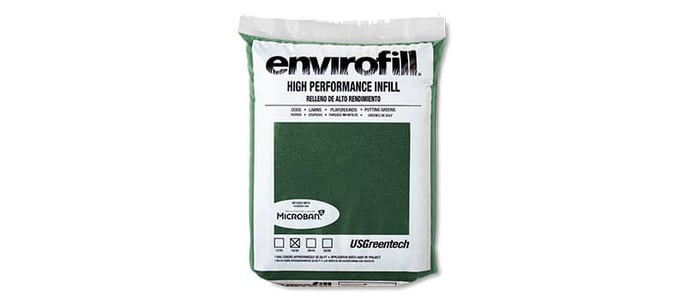 Crumb Rubber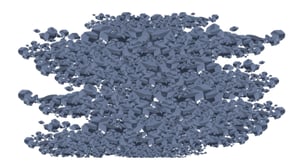 Crumb rubber infill is made from recycled tires. This type of infill gives your artificial turf a bounce. That's why it's often popular in sports fields and recreational areas. The benefits of using this type of turf infill are:
Softness

– you can take advantage of crumb rubber if you are planning any barefoot activities.

Realistic feel

– this type of infill gives your artificial turf the feel of natural grass.

Inexpensive

– crumb rubber is generally less expensive than other turf types.

Easy maintenance

– this infill type can stay intact for many years with little to no maintenance.
The downside of using this infill type is that it traps heat. Turf with rubber infill is usually hotter to step on, especially during hot summer days. It can also leave black dust on the shoe soles and lawn furniture.
WonderFill
This is yet another sand infill for artificial turf that improves drainage in your synthetic turf. It comes with a high-quality coating and natural color. The benefits of this type of infill include:
Antibacterial properties

– this infill uses a

Zinc Omadine™

coating that prevents mold, mildew, and bacteria growth.

Cost-effective

– this infill type is one of the inexpensive options.

Drainage

– similar to other sand infills, WonderFill improves the drainage of your artificial grass.
The downside of using WonderFIll is that the drainage may worsen over time. With heavy use, this type of infill may also lose its ability to improve the turf's appearance.
CamoFIll
CamoFill is very similar to WonderFill. This round-shaped sand infill can be great for lawns and playgrounds. This sand comes in different colors, giving a more natural look. Other benefits include:
No mixing

– this infill is heavy enough to do the job without mixing it with other infill materials

Antibacterial properties –

the Zinc Omadine™ coating prevents bacteria, mildew, and mold growth.

Integrity –

this sand infill is designed to last for years.

Non-abrasive –

the round shape makes this sand infill less abrasive than others.
The downside of using this infill is that drainage can worsen over time. Meanwhile, it's not designed for households with pets since it doesn't always filter out odors effectively.  
Which infill should you use on your turf?
Your choice of infill should depend on several factors:
The turf's location

Budget

Climate

Planned activities

Foot Traffic
By reviewing the pros and cons of each abovementioned infill turf, you can get an idea of which one matches your needs. For example:
If you are planning to use artificial turf on a sports field, consider rubber infill such as Crumb Rubber.

If you are considering a playground or lawn for children and pets, look to Silica Sand or ZeoFill.

If you plan to install turf in a dog park or near a house with pets, consider ZeoFill or EnviroFill since they are excellent for neutralizing pet odors.

If you live in a warm climate, you need turf that has cooling properties, such as ZeoFill or  EnviroFill (avoid crumb rubber).
It's also possible to mix several types of infills to achieve the desired results. To find the right balance, you would need to consult an artificial turf installation expert.
FAQ about Artificial Grass Infill 
How do you install infill on artificial grass?
To install infill on artificial grass, you would need to use a drop spreader to spread infill evenly. Then, use a power broom and go against the grain of the lawn to ensure the bristles end up upright.
Why does artificial grass need infill?
The key reasons why artificial grass needs infill include:
Holds the blades in an upright position

Protects synthetic fibers from breaking

Increases fire resistance of artificial turf

Improves drainage

Enhances appearance

Adds weight to the lawn, so it doesn't move

Protects the backing from damage
Without infill, the integrity of the artificial turf is much lower. You would need to replace the grass turf more often.
How much infill does synthetic grass require?
Depending on the type of turf, you would need 1-2 pounds per square foot. You might more if the pile height of the artificial turf is high. 
How often do you need to add infill to artificial turf?  
You need to add infill to artificial turf once every eighteen months.
Can I lay artificial turf straight onto the sand?
No, you need a base layer that is compacted. Otherwise, your turf will end up being uneven. 
What can I use instead of silica sand?
If you don't want to use silica sand, Zeofill and EnviroFill are good options even if you don't have pets. 
Related Articles
Replacing at least part of your landscape with artificial turf for dogs will make your landscape...
Thinking about replacing your dying field with artificial sports turf?
Removing old turf is a big job.