California Artificial Turf Rebates for 2023
Currently, California has 54 counties with USDA Disaster Designations. More than 715,000 residents are in areas with a drought.
Significant sections of the state are facing water shortages. In response to the growing water emergency, Governor Gavin Newsom signed AB 2142 to help incentivize the adoption of artificial turf or hardscaping as a replacement for thirsty natural turf and plants. The bill exempts turf replacement rebates from state income tax calculations.
However, the terms of both the rebates and the tax exemptions can be confusing. Almost 50% of California's water agencies have a natural turf removal rebate, but many don't have rebates for artificial turf.
As you consider replacing natural grass with artificial turf, it's essential to be aware of the artificial turf rebates that you might benefit from in 2023.
It all starts with living under the right turf replacement program.
What Is a Turf Replacement Program?
A turf replacement program is a water district-, county-, or state-level program that provides incentives or assistance for property owners who replace natural turf and landscaping plants with qualifying alternatives, such as synthetic grass.
Different drought-tolerant landscaping programs have different requirements and allowed alternatives—some provide rebates for drought-resistant plants, while others may provide rebates for artificial turf installation.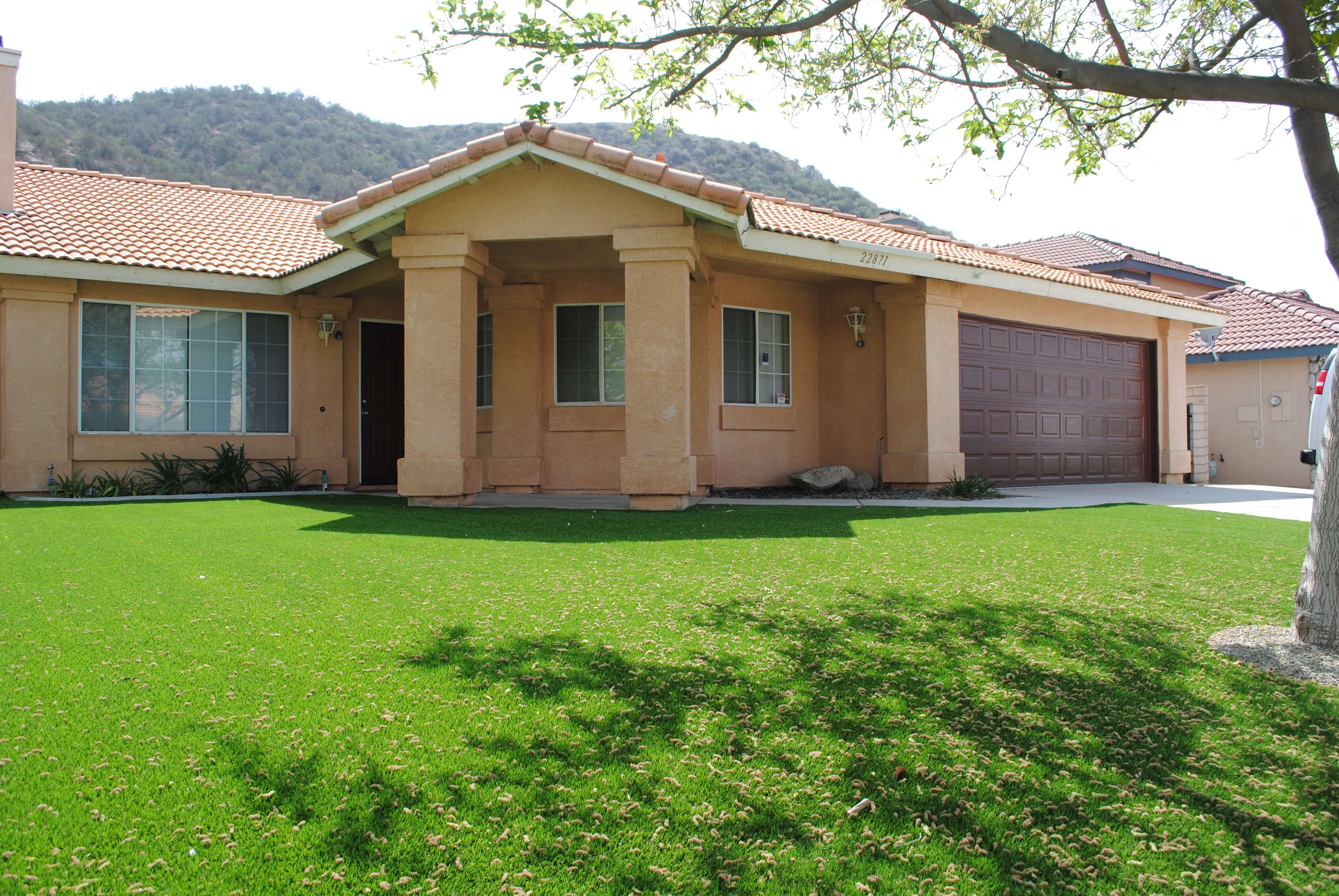 Does California Have a State-Wide Rebate for Artificial Turf?
California does not have a state-level artificial turf rebate program. However, it does have a "Cash for Grass" rebate that can help individual water districts create and maintain programs. These smaller programs can then offer rebates for qualifying residential or commercial projects to replace plants with qualifying landscape installations.
5 Water Agencies with Artificial Grass Rebates
Water districts are individual organizations that provide water delivery, waste disposal, or flood control and water conservation efforts for specific geographic areas. These water districts can manage artificial grass rebates that homeowners' artificial turf installation projects may qualify for. While not every turf replacement program considers artificial turf as a qualifying replacement material, these five areas do offer rebates for artificial grass in their jurisdiction.  
1. Carpinteria Valley Water District
If you live or own a property in Carpinteria Valley Water District, your landscape project may qualify for the Carpinteria Valley Water District Water-Wise Landscape Rebate. Under the terms of this program, qualifying homeowners can receive up to $500 for landscaping on a single-family home, and businesses can receive a rebate amount of up to $1,000 for a commercial or multi-family property or area managed by a homeowners association. These one-time rebates are based on:
Landscape design costs: The rebate will cover 50% of landscape design fees up to $250.

Equipment and materials: The rebate will cover up to $250 or $750 (depending on the property type) for pre-approved irrigation equipment, planting and labor, and artificial turf materials. 
Note: This is a one-time rebate only, and the materials and equipment must be pre-approved to qualify.
2. San Bernardino County
San Bernardino County residents and business owners can also qualify for money back on artificial turf.
The San Bernardino Water Department offers a wide range of rebates and programs for property owners who want to remodel their yards with drought-resistant or water-efficient options. One of these programs, the San Bernardino County Artificial Turf Rebate, gives eligible residents a rebate of up to $400, or $2.00 per square foot of artificial turf installed.
The Turf Removal program also offers a rebate of $3.00 per square foot of natural grass removed and replaced (for a total of $3,000).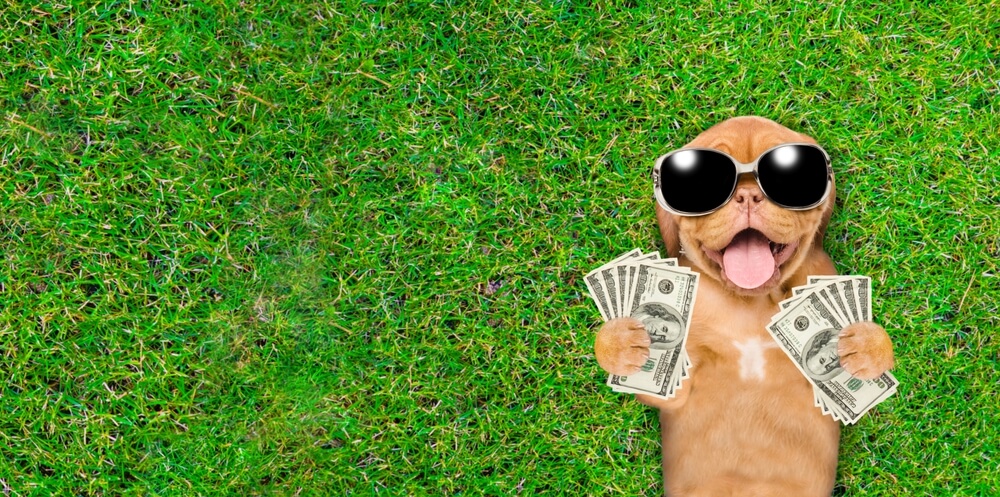 3. Goleta Water District
The Goleta Water District Smart Landscape Rebate Program offers rebates for property owners that pay for irrigation equipment, qualifying plants, and artificial turf and other permeable landscaping materials.
Qualifying properties can apply for the rebate to receive 50% of the cost of artificial turf. Single-family residents can receive a rebate of up to $750, and commercial, multi-family, or HOA-managed properties can receive up to $2,000 back.
The rebate is tied to the number of meters on the property. For example, a multi-family property with two or more water meters could receive a rebate of up to $4,000. 
4. Kingsburg Turf Replacement Program
Property owners in Kingsburg can receive up to $3,000 through the City of Kingsburg Turf Replacement Rebate Program. To qualify for the program, property owners must use pre-approved artificial turf materials.
However, the city has additional requirements for qualifying turf projects: the installation cannot just include artificial turf, mulch, gravel, or rocks without pre-approval. Also, the converted grass must be at least 250 square feet but no more than 1,500 square feet.
5. The City of Madera Water Conservation Rebate
If you live or own property in Madera, you can also receive a rebate for artificial grass replacement projects within the water district's jurisdiction. Through the City of Madera Turf Replacement Rebate Program, you can receive up to $3.00 per square foot of natural grass and plants replaced by artificial turf or other qualifying materials (up to 1,000 square feet). This program requires a pre-job inspection and pre-approval process in order to qualify for the rebate.
Some additional artificial turf rebate programs in California include:
How Do You Check If You Are Eligible for a Rebate?
Every water savings incentive program is different, and property owners within a given water district will need to carefully examine the requirements before beginning an artificial turf replacement project.
You may need to have your landscape design plan approved and undergo an inspection before and after the turf replacement project. Alternatively, you may only be able to use equipment and materials from a pre-approved list.
For example, in the Coachella Valley Water District you must meet all of the following rebate eligibility requirements:
Be a Coachella Valley Water District customer.

Have a functioning irrigation system and a green or golden-brown lawn with at least 200 square feet to be converted to artificial turf.

Have a pre-approved project plan and undergo a pre-site inspection.
There are additional requirements that apply to the property owners and detailed project criteria.
The rebate money is available on a first-come, first-serve basis. Become familiar with the terms for any programs in your area and work with a landscaping service familiar with any project requirements.
How Do You Apply for Turf Replacement Rebates?
Each artificial turf rebate program has a separate rebate application form created and managed by the area's water district agency. Visit their website to properly fill out and submit the form, as well as provide any necessary documentation.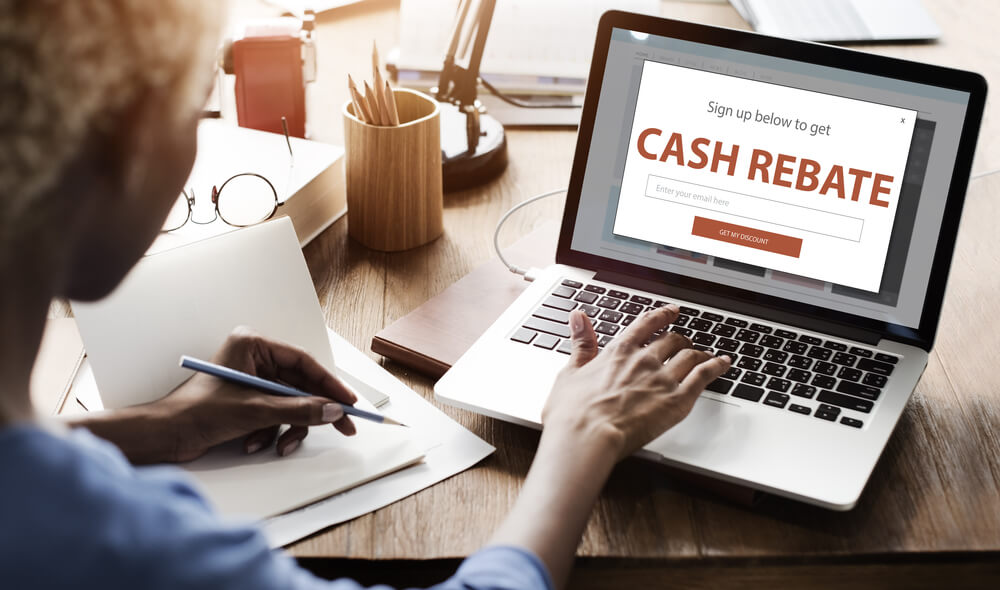 Some of the applications will allow you to apply for multiple area-specific landscape rebates at once.
For instance, the City of San Bernardino's Outdoor Conversation Rebate Program includes multiple options for making your landscape more water efficient. To apply for the turf replacement program, property owners must:
Fill out the Outdoor Conversation Rebate Program application form, including a list of the materials to be used.

Provide "before" pictures of the lawn area to be replaced.

Submit the application and documentation to the SBMWD Rebate Program mailing address of PO Box 70, San Bernardino, CA 92402; applicants can also email the pictures to rebates@SMBWD.org.

After pre-approval, send in "after" pictures and invoices or receipts to verify the materials used.
Estimating Your 2023 Artificial Turf Rebate
Before you start your artificial turf installation project, you can estimate approximately how much to expect in rebates.
To start, determine the square footage of the area you will cover with artificial turf. Multiply the square footage with the applicable square foot rebate rate, such as $3.00 per square foot in Madera.
If your county or water district isn't listed above, visit the SoCal WaterSmart site and enter your address to find any applicable programs. You can also contact us for help finding any artificial turf replacement programs you may be eligible for.
Related Articles
Artificial grass has its place in many different settings, from outdoor soccer fields to indoor...
Looking for used artificial turf to buy?
Looking for safe artificial turf for dogs?