Cost of Turf and 10 Creative Projects Enhanced with Synthetic Grass
Synthetic grass is a versatile solution for a wide range of projects. And although the cost of turf is a consideration, when you buy recycled grass, you can reduce the cost of the project significantly.
We often focus on the benefits it offers backyards and pet areas, so today we'd like to take a moment to explore the less-common types of installations we've seen.
Synthetic turf offers the flexibility you need to bring your project to life.
Whether you have extra turf from a recent landscaping project or are curious if synthetic grass is right for your unique project, you'll find a list of projects enhanced by synthetic grass below. When it comes to interior and exterior design, there's no such thing as too much creativity.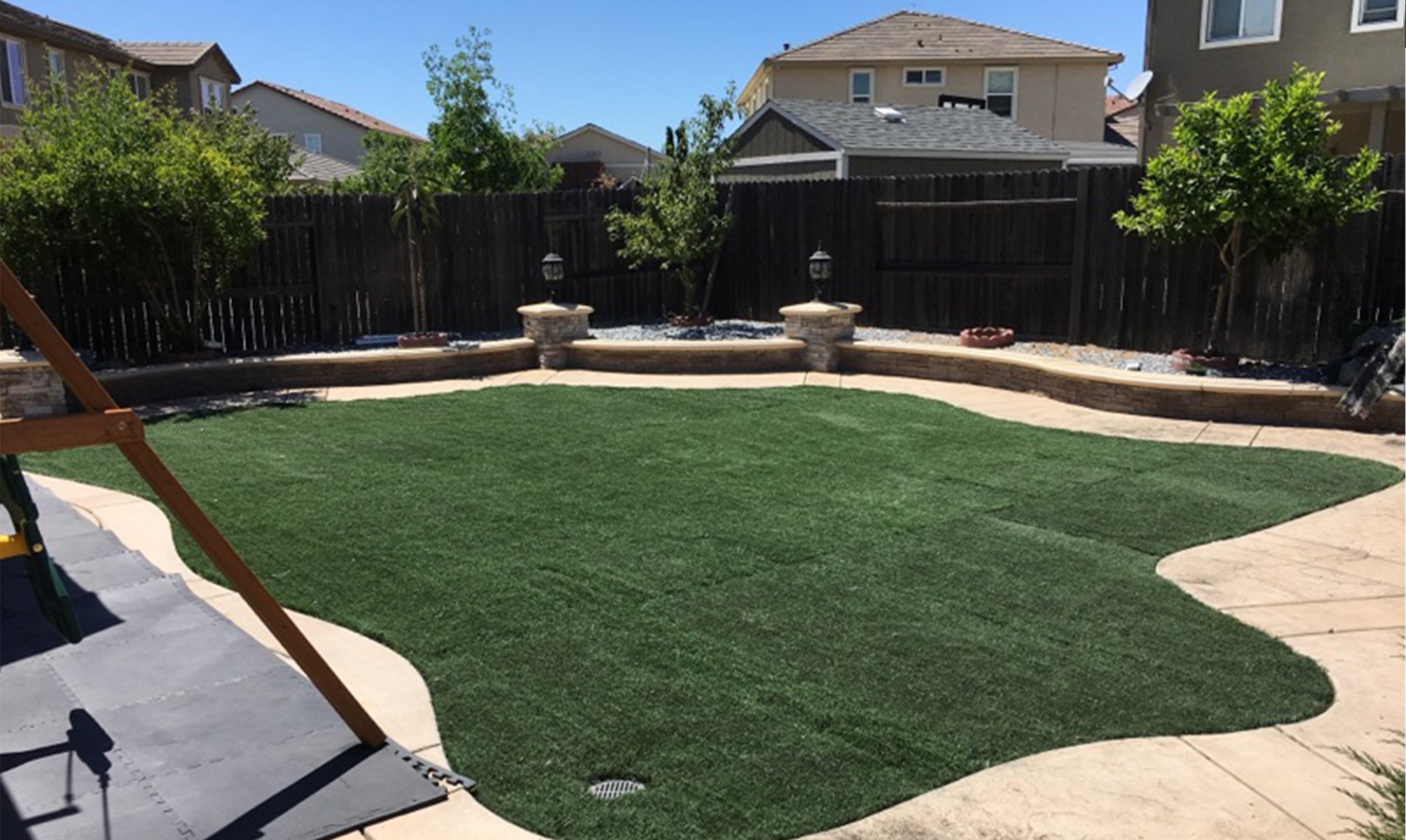 1. Patios
Not everyone has a garden, but most of us have a small yard or a patio area.
Rather than leave it looking cold and dark in the form of paving and stones, you can add fake grass to brighten it up and make it more appealing. Even in the smallest of spaces, you can relax and entertain guests so make it the best that it can be. Fake grass on your patio area is also a great idea if you have children, as you will not have to worry about them tripping up if they are playing outside.

2. Rooftops
If you have no outdoor space at all but have a rooftop that you can hang out on, why not turn it into a green space?
However large or small your rooftop is, you can bring a little bit of nature to your home or workspace. If you do have a business, particularly a restaurant or bar, adding artificial grass can really win your brownie points for people who like to dine al fresco during summer.
3. Office Space
Office space can be very gloomy at times, especially when the sun is shining outside.
If you want to bring a little bit of nature into your indoor space, you can join the many companies that are installing artificial grass indoors. Nature can make us feel better and can keep us motivated, which is something that we all want when at work.
Some trendy businesses are installing small sports areas, such as a putting green or a basketball court to allow their employees to really have some downtime during breaks and to help with team building.
Related: 6 Types of Businesses that Use Artificial Grass Indoors
4. Interior Design
Just as employers are bringing the outdoors indoors, so are homeowners.
Take a look online, and you can see many interior design ideas using artificial grass, ranging from pillowcases and rugs to art installations and pictures. With this in mind, you are also likely to see artificial grass in public spaces, such as museums and libraries that really want their services users to be at one with nature.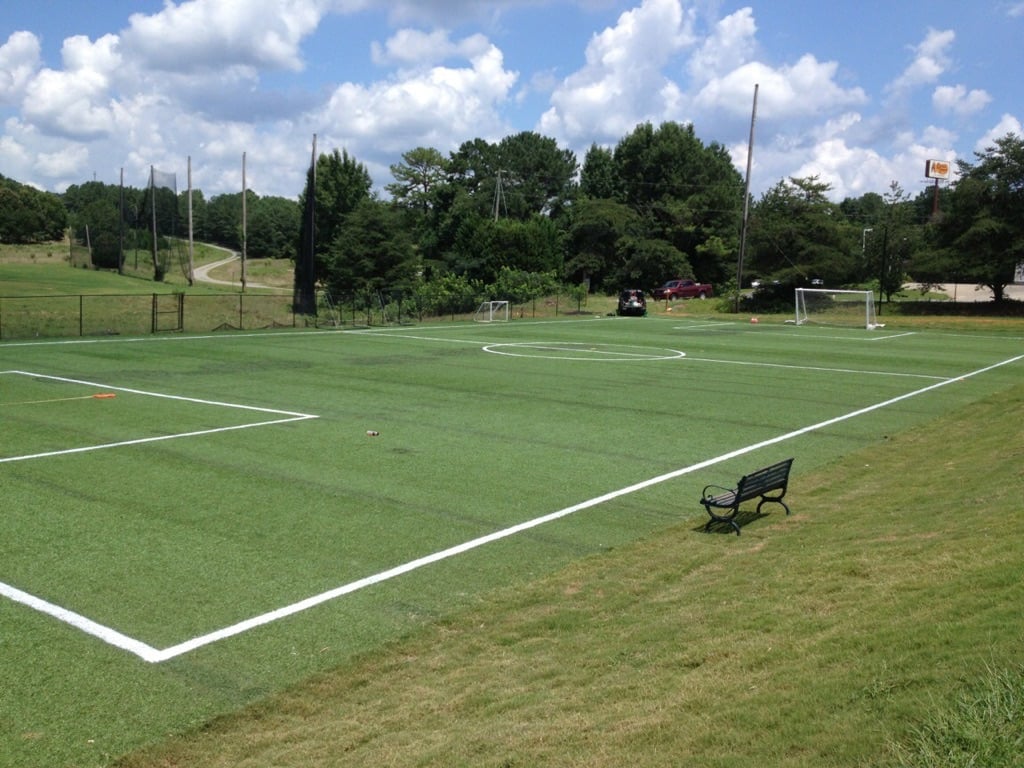 5. Community Spaces
As we head into summer and children break up for school it really is time for the whole community to come together.
With just a little effort and a small contribution from each family, you can easily install a patch of artificial grass in a central spot in your community. The grass can be used to simply sit with friends and neighbors or you can create a bespoke sports area.
Just think about how you can sit back and enjoy time outdoors, eating picnics and chatting with friends without heading to the local park.
Related: 7 Easy Ways to Enhance RV Parks with Beautiful Artificial Turf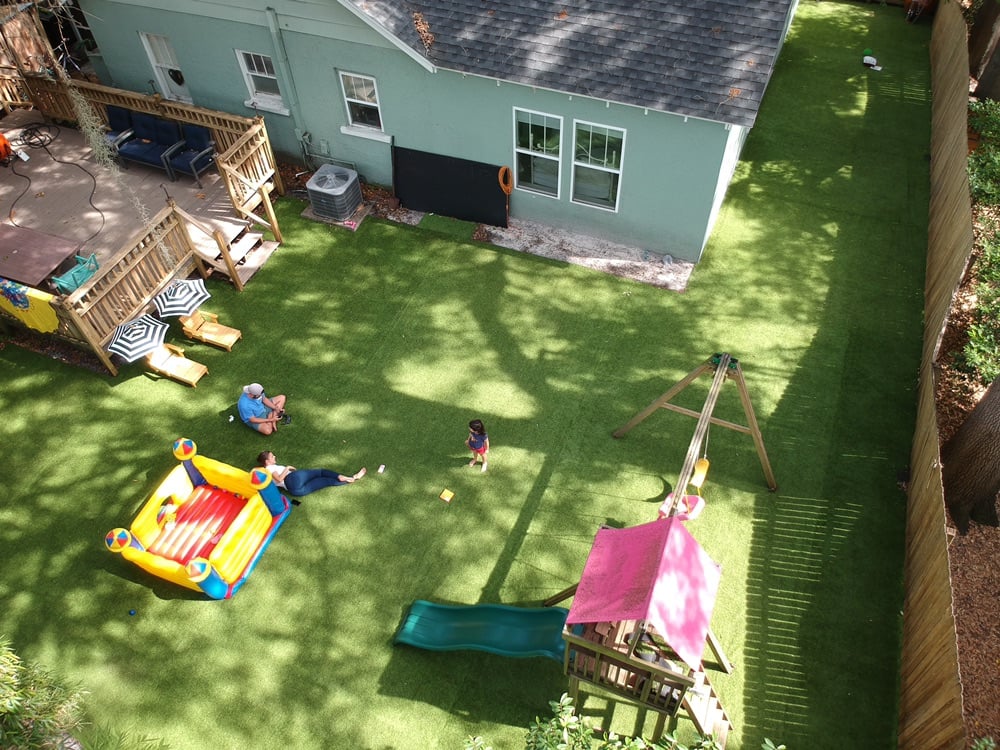 6. Children's Play Areas
If you are fed up of seeing your children's play area in your garden or local park looking tired and worn, it may be time to consider artificial grass.
Fake grass has come a long way since it first appeared on the market and its technology has meant that it will look great even with the largest of footfalls. Artificial grass is great value for money and it can also protect children when they fall or trip by cushioning them as the land.
7. Crafty Projects
If you are thinking, "How can my children enjoy artificial grass if it is always raining?" then we have the answer—Crafting!
Yes, you can use small offcuts of grass for sensory play games for young children or for creating imaginary fairy worlds in your kid's bedroom. Like we said, there is no end to the imagination when it comes to using artificial grass, especially when children are involved.
8. In the Classroom
Many schools are now installing fake grass in the playground, but they are using it indoors too.
Educators are continuing to sing the praises of outdoor education and forest schools, but it is not always possible for every classroom. With fake grass, teachers can bring a little bit of nature inside as children learn all about the world around them and the fun ways that they can learn from nature.
9. Store Displays
Those in the retail industry understand the importance of advertising and marketing and the greater a product looks the more chance it has of selling.
If you are in charge of designing window displays for your business, using fake grass can really elevate your design. Artificial grass will look great for gardening, outdoor furniture, camping and children's play equipment businesses and those in the travel industry.
10. Festivals
If you are planning on running a summer festival and you are worried about how the land that you have in mind will cope with increased footfall, fake grass is the perfect answer.
You can keep your whole festival site looking in tip-top shape even when it rains. Using fake grass offers a safer environment as there is no risk of slipping on the mud when they are dancing and if people do happen to fall over, they can enjoy a soft landing.
The great thing about all of these options is that artificial grass is very easy to install and easy to clean. Maintaining real grass is handwork and can take up a lot of your time, but the fake stuff really is a no-fuss solution. Artificial grass comes in all shapes and sizes, colors and cuts and there is sure to be a style to suit all tastes and budgets.
We hope that you have been inspired to install artificial grass in your home, workplace, or community area, we can guarantee that whatever option you choose you will have lots of fun with it.
Read more about the cost of turf in these articles:
The Cost of Turf and Other Advantages of Synthetic Grass
The Cost of Turf for Putting Green and 7 Reasons to Use It
The Cost of Turf and Its Maintenance
The Cost of Turf for Athletic Fields and Other Advantages
The Cost of Turf and 5 Eco-Friendly Reasons to Buy Recycled
Cost of Turf and 10 Creative Projects Enhanced with Synthetic Grass
Related Articles
Thinking about replacing your dying field with artificial sports turf?
Many people wonder about the cost of artificial turf. Yet, they don't take into consideration the...
Want to know how to install artificial grass on dirt?